CHINA HOME APPLIANCES MARKET - GROWTH, TRENDS, COVID-19 IMPACT, AND FORECASTS (2022 - 2027)
Market Overview
China is the fastest-growing home appliances market in the world. The Chinese home appliances market is undergoing lucrative growth due to improving disposable incomes, urbanization, product mix rebalancing, and increasing consumption of white goods in rural areas. Since it has more advanced technologies and is relatively cheaper, it has a competitive advantage among others in the market, which adds value to its exports.
The Chinese market has a high demand for white goods and small appliances. In the kitchen appliances market, consumer brand awareness is increasing with more emphasis on the design and feature functions, while price sensitivity is falling. The demand for energy-efficient and environment-friendly products is also rising as consumers are becoming more environmentally conscious. Meanwhile, premium white goods are also gaining popularity in the market.
The air conditioner segment dominated China's home appliances market due to its high domestic demand favored by growth in its exports. Washing machines and refrigerators are majorly supported by the trend of premiumization.
Impact of COVID has been observed on both large and small home appliances in China. While few got huge sales revenues others got down in volumes due to logistics and other geographical issues. Thus Covid pandemic has proved to be a mixed basket for Chinese Home Appliances Market. Supply and demand are off kilter this entire pandemic year because of the COVID-19 pandemic, creating an unprecedented demand for both major and small home appliances.
Scope of the Report
A complete background analysis of China's home appliances market, which includes an assessment of the national accounts, economy, and emerging market trends by segments, significant changes in the market dynamics, and the market overview is covered in the report. The China Home Appliances Market is segmented by Major Appliances into Refrigerators, Freezers, Dishwashing Machines, Washing Machines, Cookers and Ovens and Others, Small Appliances into Vacuum Cleaners, Coffee/Tea Makers, Grills and Roasters, and Food Processors and Others, and Distribution Channel into Multibrand Stores, Exclusive Stores, Online, and Other Distribution Channels. The report offers Market size and forecasts in value (USD Million) for all the above segments.
Key Market Trends
Sales Through E-commerce Increased Manifold in the Chinese Home Appliances Market
E-commerce's contribution to China's domestic consumption of home appliances has grown to record levels. The increase in e-commerce channels in China is being supported by their convenience, in terms of product comparison and at-home delivery, diverse product offers, competitive pricing, and the capacity to reach consumers who do not have easy access to other channels.
Chinese consumers increased their spending on home appliances in 2019 with more than 40% of orders placed online. E-commerce is making the greatest contribution to sales than ever, as its share increased to about 7.5% as compared to the same period in 2018.
The sales of traditional home appliances, such as TVs and washing machines, declined but on the other hand, new technologically advanced products, such as robot vacuum cleaners, dishwashers, and electronic face cleansers, enjoyed strong demand from the consumers. Small home appliances also saw explosive growth, while electric toothbrushes saw a huge increase in sales.
Online sales volume and value of air conditioners posted year-on-year growth rates of 105.1% and 124%, respectively, of hoods 99% and 92%, and of gas range 94% and 70%, respectively. Sales value of air purifiers and water purifiers grew by 91% and 50% year-on-year, respectively.
Chinese e-commerce giant JD.com, which started as a seller of electronic goods, dominated the market in the first half of 2019 while Sunning and Alibaba platforms followed the trend. Companies are speeding up the establishment of offline experience stores and flagship stores, to reinforce consumers' online and offline experience and interaction and make shopping quicker and more convenient.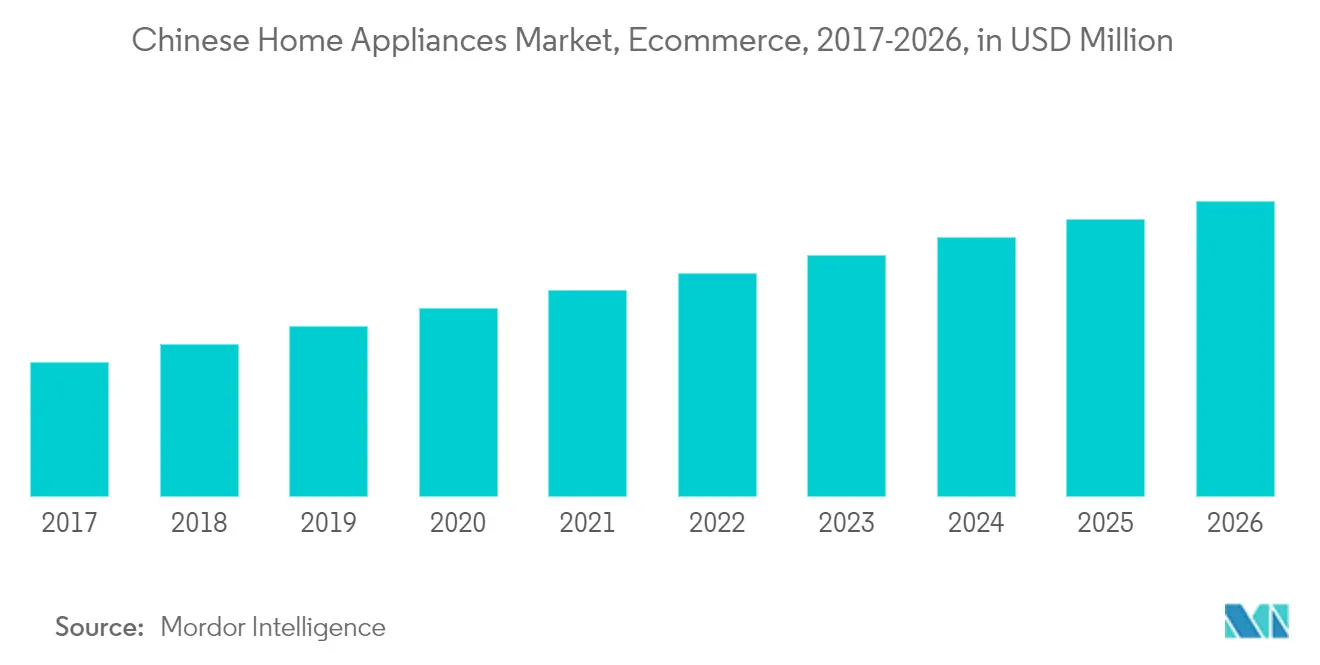 Increasing Purchase of Smart Home Appliances is Expected to Drive the Market Growth
Technological advancements have led to the development of smart appliances and are expected to drive the growth of the household appliances market in China. Smartness has become a selling point for most home appliances. With Wi-Fi-capable products becoming commonplace, smart appliances are evolving from individual products to established situations with interconnected products. Appliances, such as washing machines, dishwashers, and refrigerators, are experiencing rapid growth.
At a stage of early exploration, both the business model and hardware of smart appliances need more breakthroughs. There are several issues to be addressed, including non-unified standards, unsatisfying user experience, hardly friendly operations, etc.
In March 2017, the China Household Electrical Appliances Association released its standard Cloud to Cloud Interconnection for Smart Household Appliances. Being the first in the industry, this standard paved the way for the further development of smart appliances.
In July 2018, Xiaomi launched a new product to its Mijia product line. Mijia Smart Air Conditioner, which won the 2017 Good Design gold award, features an anti-UV ABS polymer resin body. The product further includes additional features, such as an LED display on the front of the unit where users can control the temperature and cooling times via the Mi Home app from their smart devices.
Manufacturing wise, enterprises are stepping up their efforts in smart plant establishments and process improvements. Standard bearers grow particularly fast in this field.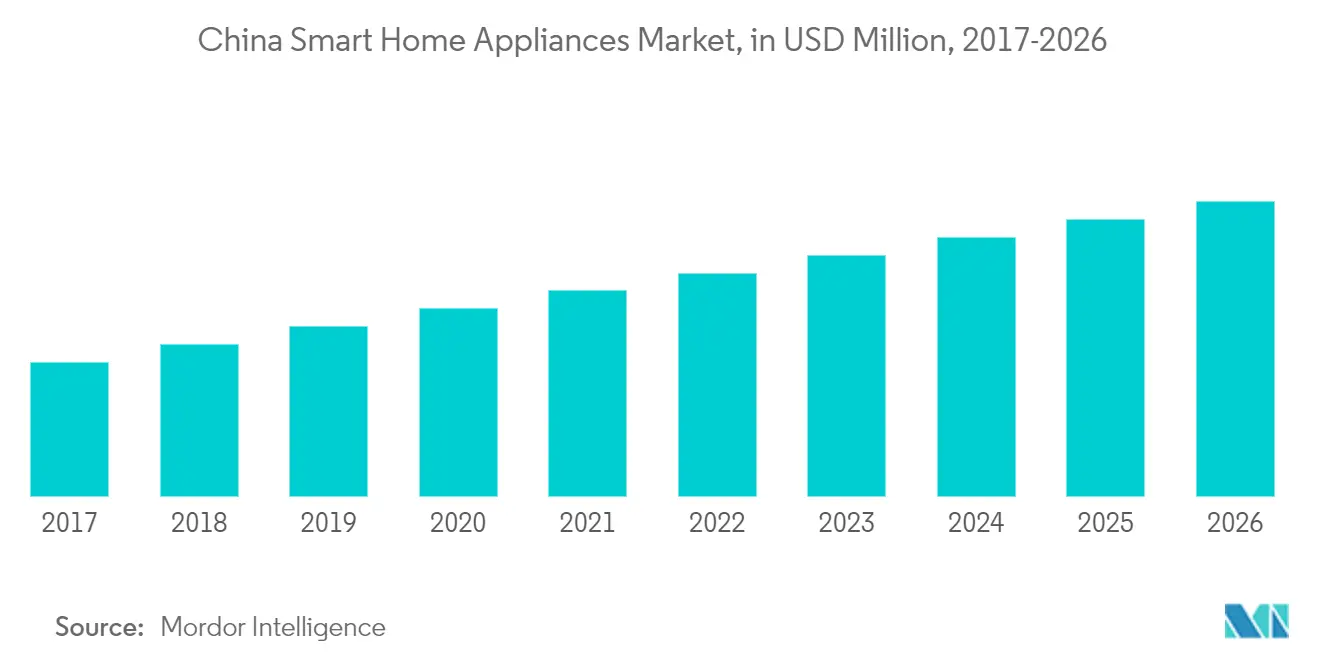 Competitive Landscape
The Chinese home appliances market is highly competitive with domestic companies dominating the market. Traditional home appliance manufacturers are stepping up their efforts to launch smart home appliances. The strength of Chinese manufacturers is underpinned by their understanding of the particularities of local demand, extensive distribution networks, affordable pricing, and commitment to technological innovation.
IoT is Among the Key Drivers for Home Appliances in China
The rise of the Internet of Things (IoT) and online brands may pose some threats to conventional home appliance companies, especially TV makers. Smart home appliances from leading loT brand Xiaomi are competitive on pricing and are internet-connected through mobile apps, which have greatly improved user experience and stickiness. The rise of online shopping should help IoT brands to increase their penetration, but most IoT brands bear the risk of inadequate product control as they outsource production to countries with cheap labor.
Demand for large appliances in China is mainly driven by the replacement of existing old products with new ones. In 2020, especially due to the lockdowns, the demand further went up. Thus, to put up with that demand for white home appliances, including washing machines, air conditioners, and refrigerators, Chinese giants' are giving a rosy performance in both market share and production capacity.
Sited from: https://www.mordorintelligence.com/industry-reports/china-home-appliances-market-industry, By Modor Intelligence